You Can Stay Healthy With These Travel Habits
March 12, 2020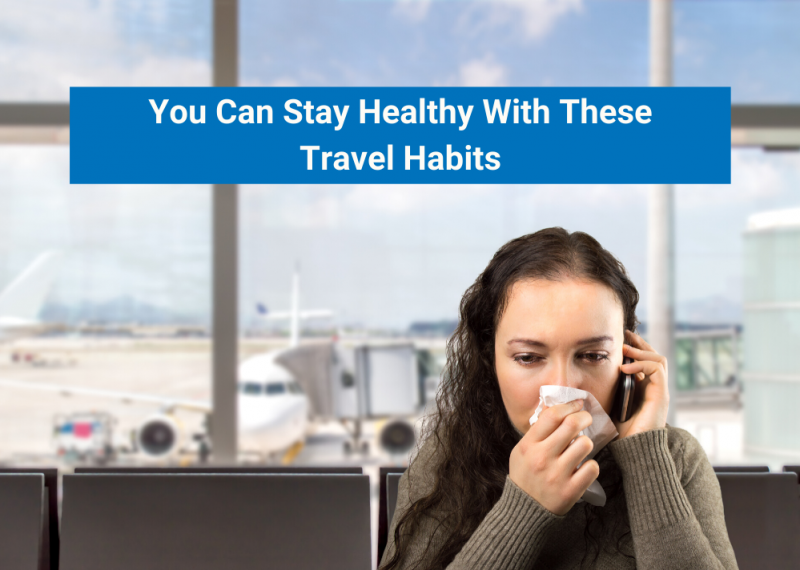 This blog post started out as a really long Facebook post on my personal profile. It received such a huge response that we decided to post as a blog and include in this week's MC Weekly email. I use a lot of levity in the post – keeping your sense of humor during times of stress is really important – but we completely understand many people are really suffering from the Coronavirus. Our hearts, and most importantly, our prayers are with you.
---
I got the H1N1 Flu (also known as the Swine Flu) in 2009 during the early days of that outbreak (before it spread to local communities) likely from my heavy travel schedule. It wasn't fun. It was the sickest I've ever been, but it was temporary. I got better. But I also learned some lessons about staying healthy when you travel.
Since then, I have a bunch of travel habits (I'm even more vigilant during cold and flu season) that have hopefully mitigated a lot of bugs. I may still get the Coronavirus (probably because I tempted karma with this post) but I make a game out of trying not to get it! When I focus on process and journey over outcome and results, I'm more relaxed, effective, and fun to be around.
If you have work or pleasure travel trip coming up- or you just want to be more vigilant when you are out and about town, here's my routine. I know it seems over the top! I've found that being proactive and in problem-solving mode helps me switch off the anxiety over things I can't control and helps me focus on what I can do. Maybe it will help you too!
Immediately after security screening, I go to the restroom and wash my hands after touching the TSA bins. If there isn't time for a restroom visit, Clorox wipes to the rescue. I keep a travel size pack of Clorox wipes in my laptop bag all year long.
I use hot water when washing hands if available.
I use the damp paper towel from drying my hands, add a squirt of soap from the auto dispenser, and use that to wipe the handle of my carry-on bag, handle of laptop bag and phone case. Have you ever thought about what's on the pull handle of your suitcase/laptop bag? What about your phone – it's covered in whatever bugs you've recently touched. Once you wash your hands in the bathroom, if you don't wipe off the pull handle on your luggage you are just putting them back on a dirty handle.
If the seat belt sign is on and I can't wash my hands, I use Purell/Wipes on my hands before I eat or drink the snacks/drinks provided during the flight. Never ever touch your food in the airport food court or on the plane without cleaning your hands first.
I have the travel size Purell bottle with the little purse/bag strap and it stays on the outside of my laptop bag regardless of the season. It's a visual reminder of my habits. I keep them stocked in my travel supply bin in our bathroom. I had plenty when all this craziness started.
If I touch anything on the airplane, air vent, light button, restroom door handle, toilet flush button, I use a tissue to touch it or I Purell after.
I never put anything in the seatback pocket.
The first thing I do upon entering my hotel room is clean the TV remote, phone, lamp buttons and anything else in the room that probably isn't cleaned regularly with my Clorox wipes. Then I wash my hands before I unpack.
I take airborne and B2 daily whether I'm traveling or not (and add more Vitamin C during cold/flu season). At the first twinge of something cold-related I start pounding Zicam. I used to use the nose swab version but had a bad reaction to it so now I just use the tablets. They taste gross but I'm convinced they've helped me fight off several bugs before they got bad.
I drink a lot of liquids all day so I have to go to the bathroom for more hand washing!

😭

😅

😂

I don't wipe down the airplane seat, the tray, armrests etc. (unless I see/hear someone coughing around me). I just focus on keeping my hands clean. From my perspective, planes are the cleanest they've ever been!
I have a horrible cuticle picking habit because my hands are so dry from all this hand washing.

🤣

I use a liquid bandage product to cover my dry cuticles and it makes them smooth as glass. Nothing to pick or chew. Keep my purse stocked with travel hand lotion.
I shower first thing when I get home and the clothes I traveled in go straight into the washing machine. I have luggage stand in the bedroom where my luggage sits- I never ever put it on our bed or the hotel bed (think bed bugs) to pack or unpack. I use dryer sheets in the luggage to keep it smelling fresh and not like dirty laundry.
Don't forget about using these tips with your Uber, hotel meeting area or conference center. Same rules apply.
I know this is a lot and probably sounds nuts 🥜 but it's really helped me over the years. I do this all on auto-pilot now. They are habits that I don't even think about except today when I decided to share with others. I got tired of catching everything from being around so many people. I need to be at my best and not coughing all over the audience when I speak.
What are your unique travel habits? Share them in the comments for others to use!
Tags: coronavirus, flu, healthy, travel


Categorized in: Personal Development